Advertisement
February 17, 2006 11:24 IST


The International Cricket Council on Thursday said the graphite-reinforced bat, used by Australia captain Ricky Ponting [Images], was illegal.

The ICC [Images] said the Marylebone Cricket Club had told it that the graphite-reinforced bat contravened one of its laws and "in the MCC's view was illegal".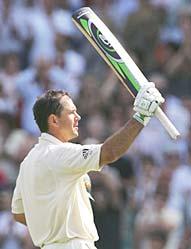 The Australian bat manufacturer Kookaburra has agreed to the immediate voluntary withdrawal of its graphite reinforced bat from international cricket.
The offer was made after the ICC informed Kookaburra that it had received an opinion from the guardian of the Laws of Cricket, the Marylebone Cricket Club (MCC), that the bat contravened Law 6 and, in the MCC's view, was illegal.
"With several players in the world currently or soon to participate in international cricket matches, Kookaburra has undertaken to re-supply all international cricketers with alternate bats as soon as possible," the ICC said.
The MCC investigated the bat's design in April to see if it complied with laws regarding the composition of the blade, the thickness of any covering material, and the damage it does to the ball.
The ICC approved the bat the following month, despite the MCC's concerns that the thin film of carbon graphite gave the user an unfair power advantage.
© Copyright 2008 PTI. All rights reserved. Republication or redistribution of PTI content, including by framing or similar means, is expressly prohibited without the prior written consent.